We have not done very much in the way of traditional preparation for Christmas this year. Work schedules and travel got in the way, and after Friday, I wasn't sure I would be in the mood.
BUT, there are teachers to buy for, and between my girls and their daycare/aftercare, there are 7 to care for. I had it in the back of my head, who would get what, but after what happened at Sandy Hook, well…
I want to buy every one of my daughters' teachers a Corvette, and every one of their friends a pony.

But since that was not in our budget, I shopped Dollar Tree, Old Time Pottery (Barn), and our own cupboards, and the girls and I found a way to put special gifts together for these special people. I even made it part of Monday night's Advent activity:
OK, so we didn't exactly craft. The girls painted suncatcher ornaments. They carefully wrote out gift tags and decorated cards. They sweetly made an assembly line to fill treat bags for their friends. And I smiled, because though as a parent I worryworryworry about "how they will turn out" and hope they will inherit the best in us, I can see that they do  have the easy generosity that began with my immigrant grandparents and has been passed through the family line.
They took their tasks very seriously:
We were all happy with the finished products:

And best of all, though I didn't get to hug all the 4, 5, & 6 year olds I saw, or hand bucketfuls of money and chocolate to their hero teachers, we were able to capture sweet moments like this:

~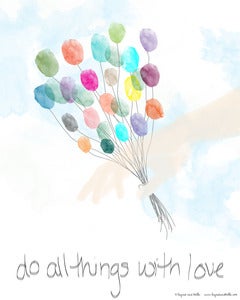 As we continue to mourn and hope, there are many lovely tributes to those lost at Sandy Hook Elementary. This one showed up on my Facebook feed tonight (thanks Tammy B!). It is an inexpensive and meaningful way to help a little…and remember always.
Click here to purchase.
Comments
comments